At Creative Methods, we try to "step outside the box" and look at our world with new perspective. This phrase originated in the following diagram with the challenge to "connect all the dots with four straight lines without lifting your pencil from the paper." Most people automatically confine their thinking to the "box" formed by the dots. A solution requires "stepping outside the box" and can be done this way: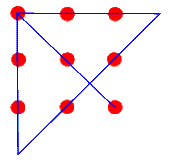 Humans are adept at capitalizing on new ideas. Consider, for example, harnessed electricity, the internal
combustion engine, and the integrated circuit. There is, however, a disinclination to ever revisit the fundamentals, to ask why we are doing things a certain way, or, in general, to ask why. A child quickly learns that questions such as, "Why is the sky blue?" are irritating to adults and stops asking.1 There is pressure to conform to "conventional wisdom" -- to do things the accepted way, and not ask uncomfortable questions.
<![if !supportEmptyParas]> <![endif]>
At Creative Methods, we strive to ask those questions -- to look at things in fresh ways that bring insights into our world and our ideas about it and about ourselves.
<![if !supportEmptyParas]> <![endif]>
<![if !supportEmptyParas]> <![endif]>
1 Today's child might bypass adults and ask a web search engine instead!